Grocery Outlet's Independence From Hunger Food Drive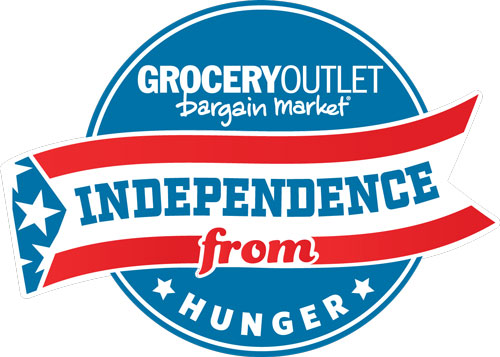 Every Day, Millions of children and families living in America face hunger and food insecurity. Due to the effects of the recent pandemic, more than 42 million people may be experiencing food insecurity, including a potential 13 million children. The pandemic has impacted families that were already facing hunger or are one paycheck away from facing hunger.
Since 2011, Grocery Outlet Bargain Market has held their Annual Independence From Hunger Food Drive every July. This year, you can join Grocery Outlet all month for their 11th Anual Independence From Hunger Drive. Give Five, Get Five: donate five dollars and get a coupon for five dollars. All proceeds will be distributed directly to local agencies, supporting food programs for. More than 47 local non-profits. Visit your local Grocery Outlet to support your community.
Ways You Can Help
Give $5, get $5. Donate $5 or more in a single transaction in-store or online and receive a coupon for $5 off a future purchase of $25 or more.


Purchase a pre-made bag that is complete with an assortment of groceries selected by the local food agency to place it in a collection bin at the front of the store.


Make an in-store donation at the register. Donations will benefit the store's local food agency partner. Donate $1, $5 or round up your change.


Donate online by visiting GroceryOutlet.com/Donate. Online donations support the San Francisco Bay Area community through Grocery Outlet's partnership with Alameda County Community Food Bank.